Post by wildazaleastudio on Sept 29, 2014 16:29:34 GMT -5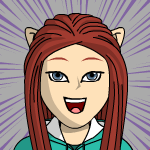 I also re-read books that I love. Right now I'm re-reading Ender's Game for probably the 4th time. Every time I re-read a well-written book I find something new about it that resonates. I have piles and piles of to-be-read books. Thank goodness for Kindle: the piles are not growing larger, I'm just filling up my e-reader.
I also collect/read books about animal behavior, reference books (like how to identify birds of North America), how-to books (I'm an information junkie), cook books, craft books, etc. I love books!
Love Science Fiction but I'm too lazy to read fantasy and learn a whole new vocabulary. I actually met Isaac Asimov years ago. Very interesting. We lived in New Jersey and a group I belong to had him as a guest. He wouldn't fly so it was a great opportunity. I just read Ender's game again a few weeks ago.
Can't read Stephen King - although I did read a book by him about how he writes that was interesting. All I remember is he wants to scare you to death or go for the gross out. Love Dean Koontz - not quite so scary.
Now showing my age - Helen MacInnes. I've read some of her books multiple times since I was about 15 yrs old. I read Deliverance years ago, couldn't stop and was scared to death with my husband sleeping beside me. Much better than the movie.
I have a bunch of gardening books, I don't know why I keep buying them. They all say about the same thing but I'm obsessed. I love books too!